Progress Mfg. Inc., home of the Equal-i-zer hitch, places great importance on serving the community and leaving a legacy of good. It's been a part of the mission statement for years, which reads, "It is the mission of Progress Mfg. to be a company where we work in a way that empowers us to provide for our families, serve the Lord, and leave a legacy of good."
"We've always committed part of Progress's net income to helping those in need," says CEO, Jed Anderson. "The desire to serve is a natural part of all of us. We want to help people close to home and across the world. Our company works not only to provide the best towing products, but to help people in other ways as well. We love letting our team members be involved in service that leaves a legacy of good."
Employees love getting involved with the service projects. For the past few years, employees have been divided into six different teams, and each month a team gets together to plan its service project, and then takes a day to serve. "I love the opportunity I have to get to know my coworkers, while serving others," says Sadie Nilsson, PR and Social Media Specialist. "It's one of my favorite parts of working here at Progress!"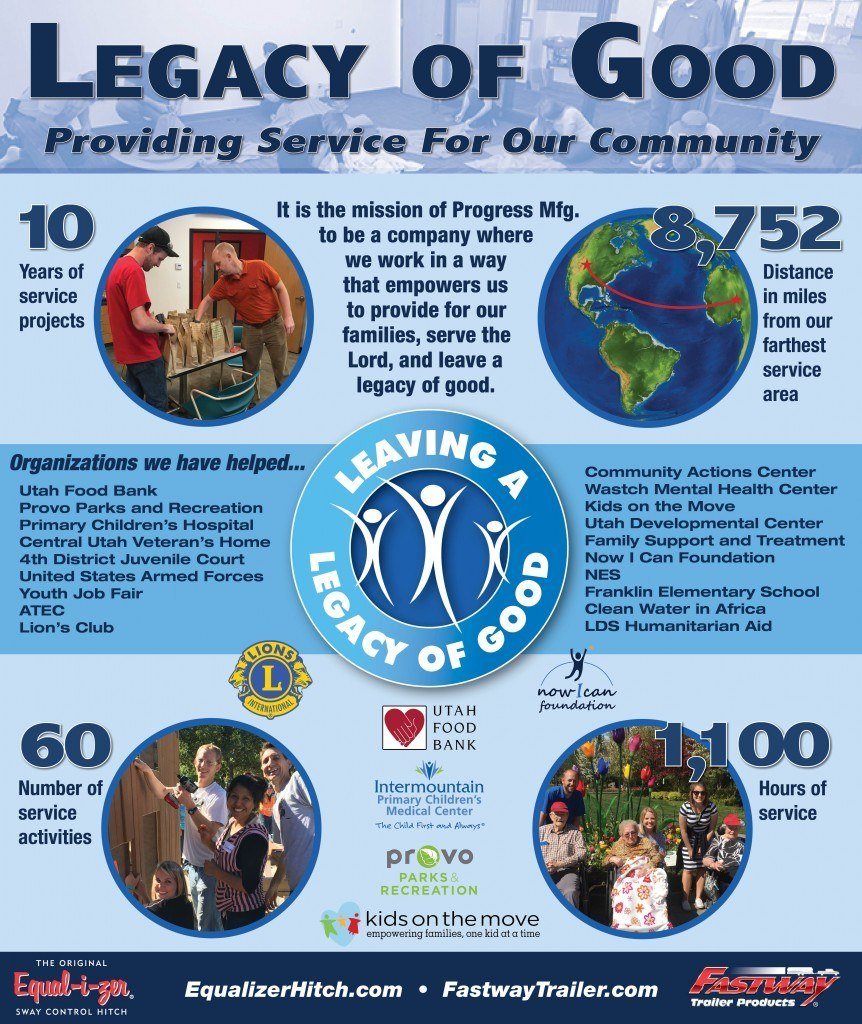 Incorporating service into the mission of Progress benefits both the community and Progress employees. Many employees have been with Progress Mfg. for over ten years, and service opportunities may play a part in why they stay. According to Forbes, "Employees want jobs that have meaning and provide them with a sense of purpose. This generation seeks to work for companies that are socially responsible and value a positive impact on society."
Kim Dewsnup, Equal-i-zer hitch Sales Account Rep., loved the time he spent serving at the Utah State Developmental Center. "We walked in a parade, pushing children in their wheel chairs, as parents and friends cheered for them. I was amazed at how beautiful the kids were, their smiles and enthusiasm were off the charts. My sleeves were wet by the end, and I did not mind, knowing it could have been one of my children or grandchildren in the wheel chair. It was a treat for me to see the love and compassion the staff was giving to each person."
Progress employees have donated thousands of hours in service and over the last ten years have participated in over 60 projects. A few favorites include organizing and participating in the MS Walk, donating time to the Utah State Developmental Center, tying blankets for Primary Children's Hospital and providing assistance for Kids on the Move.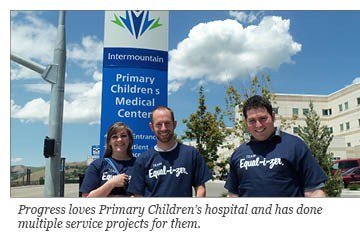 Rob Stratton, Equal-i-zer hitch Sales Account Rep., was a grateful participant in the MS Walk in 2006, 2007, 2008, 2009 and 2010. He says, "My mom has battled multiple sclerosis (MS) for most of her life, and with great success. I believe this is due in large part to the research and advancements of medical treatment to fight MS. The MS Society and MS Walk have been a big provider in fundraising for that cause, and it's been an absolute honor to participate in those events over the years with Progress Mfg. I appreciated how our company matched our fundraising efforts toward such a great cause, especially one that hits so close to home for me."
Progress employees are grateful for the opportunity they have to serve, and look forward to doing their part to leave a legacy of good.