During the COVID-19 pandemic, the RV, travel trailer, and half-ton truck industry reached record sales. Towing became more popular with smaller trucks, like Ford F-150's and RAM 1500s. But there are a few crucial things to know when using a half-ton truck for towing.
The Difference between Weight Carry and Weight Distribution
Half-ton trucks have tow capacities as high as 14,000 lb, which is impressive. Take the Ford F-150, the most popular truck on the road. It boasts such a rating on newer models with premium tow packages, but there is a catch. Ford states that it can tow 14,000 lb. if, and only if, it uses weight distribution. Without weight distribution, the max towing capacity is only 5,000 lb, which leads to an obvious question: Why is that the case?
What is Weight Distribution?
Weight distribution is the act of restoring balance to the tow vehicle and trailer. After coupling a trailer to a tow vehicle, the weight causes the rear of the tow vehicle to sag. This puts increased pressure on the axle and suspension system. In turn, the tow vehicle's front rises, which reduces steering control and braking capability. Weight distribution hitches, such as The Original Equal-i-zer® Sway Control Hitch, serve as the bridge between the trailer and tow vehicle. It restores the weight lost from the front axle and reduces the weight on the rear axle.
The F-150, in our continued example, has the towing potential of 14,000 lb. only with the weight distribution hitch for this reason. With weight distribution, the other axles on the tow vehicle and trailer now take some of the load, not just the truck's rear axle. The hitch also absorbs some weight allowing for a smoother, more controlled tow.
What is Conventional Weight Carry?
Conventional weight carry is the maximum amount of weight that can be coupled to the tow vehicle without weight distribution. A prime example would be any trailer towed on a ball mount with a single connection point that relies on proper trailer loading for balance. In the case of the Ford F-150, the weight carry is a stark contrast from the weight distribution total. According to the towing guide created by Ford, weight distribution is not required for the HD trucks. This doesn't mean that a weight distribution hitch can't or shouldn't be used. The opposite is true. A weight distribution hitch with sway control can still improve steering, braking, and stability on HD trucks.
| | | | | |
| --- | --- | --- | --- | --- |
| Vehicle | Weight Carry Max Trailer Capacity (lbs.) | Max Tongue Load | Weight Distribution Max Trailer Capacity (lbs.) | Max Tongue Load |
| F-150 Pickup | 5,000 | 500 | 14,000 | 1,400 |
| F-250 Smaller tow package | 18,200 | 1,820 | 18,200 | 18,200 |
| F-350 SRW | 18,200 | 1,820 | 18,200 | 18,200 |
| F-250 with Tow package | 21,200 | 2,120 | 21,200 | 2,120 |
| F-350 DRW | 21,200 | 2,120 | 21,200 | 2,120 |
| F-450 DRW | 24,200 | 2,420 | 24,200 | 2,420 |
Weight carry and weight distribution totals are the same for the F-250 due to more robust frames, stiffer suspensions, and larger engines. This is not a Ford-specific protocol either; all half-ton trucks require weight distribution to reach their max towing potential.
While weight distribution hitches allow a half-ton truck to reach its towing potential, a weight distribution hitch alone is not the solution if other safety guidelines are ignored.
Understanding half-ton trucks
When researching truck and trailer combinations, some crucial terms should be considered. Here is a convenient cheat sheet to reference.
These towing terms correlate with vital safety measures that should be taken to ensure that every towing experience is not only positive but safe.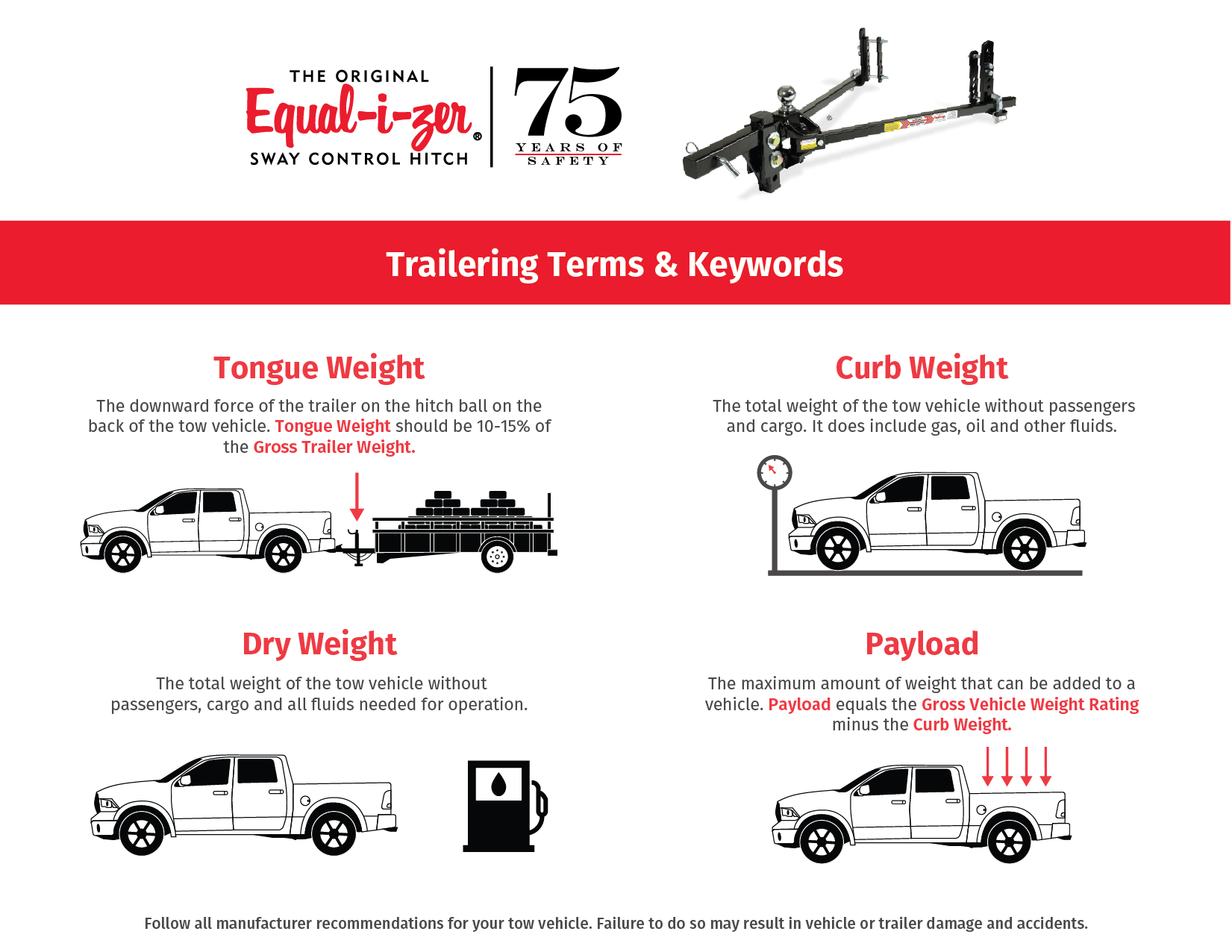 GCWR vs. Towing Capacity
Now that towing capacity is understood, and what equipment is needed to maximize towing capacity, understanding other essential safety ratings should influence all towing choices.
GCWR or Gross Combined Weight Rating of the tow vehicle is the maximum total weight allowed for the tow vehicle and trailer. If the combined vehicle weights are more than the recommended GCWR from the manufacturer, that is problematic.
Take the F-150; it has a GCWR range from 9,400 lb. to 19,500 lb. If we used the GCWR of 19,500 lb., the correlating tow capacity for that truck is 14,000 lb. A trailer with a GVWR of 14,000 lb. does not exceed the maximum towing capacity. The GVWR of our F-150 will range from 6,000 lb. to 7,100 lb.
Our equation so far is 7,100 lb. (GVWR of truck) + 14,000 lb. (GVWR of the trailer) = 21,100 lb. GCWR. That exceeds the recommended GCWR from Ford and could cause an increased risk of hazardous towing situations.
Ensure that GVWR on both the tow vehicle and trailer will not exceed the maximum manufacturer-recommended GCWR for the vehicle.
Payload vs. Tow Capacity
Often overlooked or misunderstood, payload is another critical component to safe towing and vehicle longevity. Payload is the maximum amount of weight added to the tow vehicle. In other words, anything and everything that goes inside the tow vehicle, including people, tools, cargo, and materials. Taking payload into account is crucial because it directly affects towing capacity.
Let's use a RAM 1500 truck. In this example, this RAM 1500 has a max towing capacity, with a weight distribution hitch, of 10,000 lb. and a max payload capacity of 1,300 lb. Proper tongue weight should be around 10% of the GTW or gross trailer weight, which would give us a tongue weight of 1,000 lb.
That 1,000 lb. of tongue weight is now part of the truck and affects the payload, reducing the capacity by 1,000 lb., leaving the truck with 300 lb. of remaining payload capacity. That means the remaining cargo, people, and gear inside the truck must be 300 lb. or less.
Now, if that same truck were to be towing an 8,000 lb. trailer, with an 800 lb. tongue weight, that leaves 500 lb. of payload—a much more manageable number.

If there is one big lesson and takeaway from all this information, it should be this: NEVER EXCEED THE LOWEST-RATED COMPONENT OF YOUR TOWING SYSTEM. Following these manufacturers' guidelines will help keep you towing for years to come and do so safely!
Citations:
First and third graphic:
2021 FORD RV & TRAILER TOWING GUIDE, pg. 41 and 3
Ford. (n.d.). Towing guides. Fleet Home Page. Retrieved December 17, 2021, from https://www.fleet.ford.com/tow...