As summer comes to an end, one might think the best season to visit National Parks has passed. At Equal-i-zer® hitch, headquartered in Utah, which conveniently has five unique National Parks scattered throughout the state, we believe "peak season" begins in the fall. As a company who values keeping your trailer and family safe on the road, we recommend towing your Equal-i-zer Hitch to these six National Parks in the fall for views you will never forget.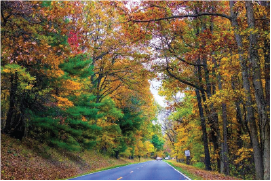 1. Shenandoah National Park
Shenandoah National Park, located 75 miles outside of Washington D.C., is not only known for its incredible waterfalls and vast wildflower fields, but its fabulous fall colors. Starting in September, Shenandoah's 200,000 acres of oak trees transform into a fall wonderland. Visitors from all over the world flock to this top tier National Park.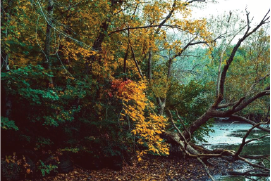 2. Arcadia National Park
Arcadia National Park, also known as the Crown Jewel of the North Atlantic Coast, is one of Maine's most visited locations. Located on the coast, this incredible National Park has some of the most gorgeous scenic views. In the fall, Arcadia becomes a beautiful fall landscape. Take a drive-up Cadillac Summit Road or hike the Beehive Loop trail to get stunning lake views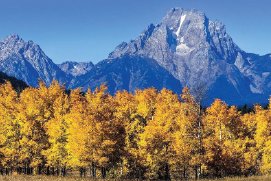 3. Grand Teton National Park
Fall in Grand Teton National Park is sight worth waiting for. With the Teton mountains as a backdrop, the Aspen trees in the valley turn shades of gold, red, orange, and yellow, creating beautiful views. As the heat of summer moves into fall, so do all the animals living in Tetons. If you time your trip to this incredible National Park correctly, you might just catch elk or bison migrating for winter.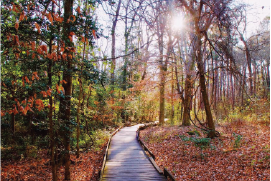 4. Congaree National Park
Deep in the bottomland hardwood forest in South Carolina, is Congaree National Park. Visiting in the fall is highly recommended, as the fall foliage is a sight to be seen. Hike the trails to spectacular viewpoints, rent a canoe and paddle down Cedar Creek, or walk down the popular boardwalks, either way, fall colors will be at every turn.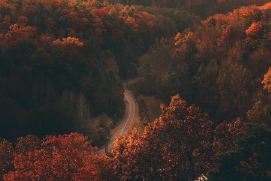 5. Great Smokey Mountains National Park
Great Smokey Mountains National Park is one of the most visited National Parks in the country. "Peak season" for this popular park begins in mid-September, just as summer ends and fall begins. The normally green birch trees begin to yellow, and huckleberry bushes turn bright red. Take a drive-up Blue Ridge Parkway to see the fall colors at 4,000 feet.
6. Zion National Park
While all of Utah experiences fall, Zion National Park, located in Southern Utah, is one of the most popular places to see different shades of orange, red, and yellow against red rock. By visiting this National Park in the fall, not only do you get to experience beautiful fall scenery, but you will also have cooler weather, run into fewer people, and the chance of seeing wildlife is higher. Angel's Landing, Zion's most popular hike, has one of the best scenic views to take in the entire fall valley.