This year the Utah Manufacturing Association (UMA) held its first "Coolest Things Made in Utah" contest to bring awareness to the incredible products manufactured in Utah. Over 200 Utah-made products were nominated to be named the "Coolest Thing Made in Utah". After four rounds of voting, the winner was announced March 27, 2019 at the "We Are Utah Manufacturers Expo".
"Manufacturing is one of Utah's basic industries and creates tremendous value in the economy," according to UMA's website. "Along with agriculture and mining, it's the only industry that creates new wealth . . . it makes up nearly 14% of the state's economic activity, and employs more than 125,000 Utahns."
A few well-known products that are made in Utah include Skullcandy headphones, Little Giant Ladders, Fat Boy ice cream, and the Equal-i-zer hitch.
Utah is home to the "Greatest Snow on Earth", five national parks known as "The Mighty 5", and an array of outdoor activities including camping, hiking, snow skiing, fishing, mountain biking, and rock climbing. As a state that loves the outdoors, it came as no surprise to see several outdoor gear products featured on the "Coolest Things Made in Utah" list of nominees. These companies include: Bean Trailer, Traeger Pellet Grills, Lifetime Products Cooler, Logan Coach Trailers, Springbar Tents, Western Range Camper, Cataract Oars, and the Equal-i-zer hitch.
The Equal-i-zer hitch was voted one of the "Top 25 Coolest Things Made in Utah". The first round of voting included 12,945 votes and 222 Utah-made products.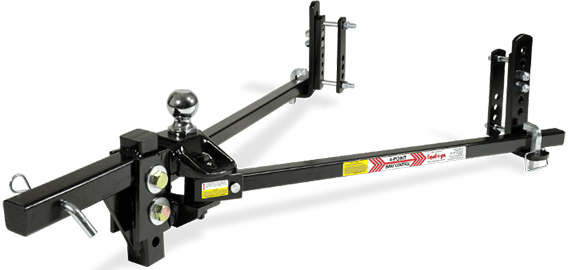 RVers across America and Utahns must be on the same page, because in addition to being voted one of the "Top 25 Coolest Things Made in Utah", the Equal-i-zer hitch has been voted the #1 hitch in America by RVers year after year in Trailer Life Magazine's "Readers' Choice Awards". The Equal-i-zer hitch's unique design combines weight distribution with sway control to minimize trailer sway caused by passing vehicles, crosswinds, and other towing hazards. The hitch has been 100% manufactured in America with the highest-quality materials for over 70 years. With top-quality materials and family-focused employees it's easy for the Equal-i-zer hitch to provide a lifetime warranty on each hitch.
"We are thrilled to be named one of the "Top 25 Coolest Things Made in Utah", and congratulate Bean Trailer for winning first place!" said Equal-i-zer hitch CEO, Jed Anderson. "We are proud to be part of the manufacturing industry and are excited to take part in the growth in manufacturing across America."